Category Archives: Uncategorized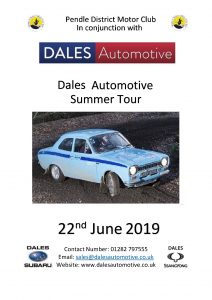 Some tour photos
2019 August Hillclimb Regulations available now

.
Select Scammonden Hillclimb on main page above  to  access regulations
Marshals. If anyone would like to help out. Please contact Barry Wilkinson on blu161@gmail.com or message on his Facebook page.
____________________________________________
A new event to Pendle District MC
Welcome to the Summer Tour supported by the family run  firm of Dales Automotive, Kelbrook, Subaru and  SsangYong  main Dealers.  They can also provide you with van and motorhome hire as well as all the usual vehicle service items. Please see the regulations below and we look forward to seeing you all participating.
Seeded entry list link below.
https://www.rallies.info/webentry/2019/dalestour/entries.php?type=s
Tilemaster Adhesives Lee Holland Stages 2019
Regulations available now
    Click on Lee Holland Stages above.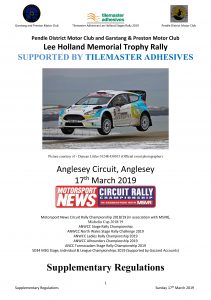 Marshals of all disciplines also required. Please contact Mr Andrew Benson (07702188003)
 with your details. Name, email address, age, MSA marshal number. Preferred discipline.
NEW RECORDS AT SCAMMONDEN
Select Scammonden Hillclimb on main page above  to                                                 view or  download
Lee Holland Marshal Newsletter Link
How to access MSA Rally Marshal Training
Go to the MSA main site – www.msauk.org
Across the banner put your mouse pointer on MARSHALS
Then click on 'Training' (left side of page)
Track down that page then click on click here to undertake the on-line training
On the next page either "Log In" if you're already a 'customer' or "Register with MSA" if you're 'new'
Having gone through the registration or log in process then go back to main page.
Then click on MARSHALS tab then go to training
Then go to bottom of page and click on "click here for on-line training."
Your name page should then appear and again "click here for on line training."
On next page click 'submit'
Then click Log in to LMS
Then click the words 'The Courses'
On the next page click "All Learning" (or 'Launch Course' if you're already registered) then click "Active Learning"
Then click "Rally and Cross Country Marshal Accreditation"
That will take you through to the course and assessment page – follow the instructions and complete each of the three modules by reading the text first (each module is in two parts – read them both!) and then completing the assessment.
When you have successfully completed the assessments you should receive and email from the MSA about competing the registration process
Good luck!!