Pendle District Motor Club along with Garstang and Preston Motor Club are to run The Heroes Rally Time Trial on Sunday 25th October 2020.
Please put the date in your diaries and keep an eye on this Pendle District MC website for further updates.
Please click on the links below re cancellation of 2020 Hillclimb and Heroes Stage Rally
Heroes Stage Rally Cancellation
The Dales Automotive, Summer Tour is on hold at this moment. If we get chance to run it we will do so. Obviously subject to the below comments/restrictions.
Heroes Stages 9th Aug and Hillclimb 15th August.
Sorry now both cancelled.
Regs now available.
PLEASE BE AWARE Final Results available above on Lee Holland Page.
PLEASE BE AWARE UPDATED REGS AS OF 2/1/20.
Minor alterations to a couple of dates, refuelling (use of pumps), Michelin ad and inclusion of GT class.
Click on Lee Holland tab above

Tilemaster Adhesives
Lee Holland Stages 2020
Entries will go live on 3rd January 2020 @ 2100hrs See main page Lee Holland tab above
Marshals of all disciplines also required. Please contact Mr Andrew Benson @
 (07702188003) with your details. Name, email address, age, MSA marshal number. Preferred discipline.
Heroes Stages and Weeton Junior Stages
Regs available on main page Heroes tag above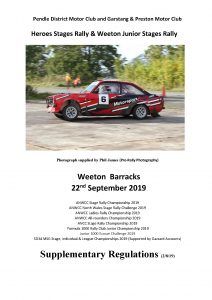 2019 August Hillclimb Regulations available now

.
Select Scammonden Hillclimb on main page above  to  access regulations
Marshals. If anyone would like to help out. Please contact Barry Wilkinson on blu161@gmail.com or message on his Facebook page
A new event to Pendle District MC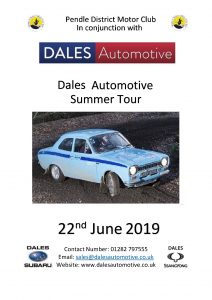 Welcome to the Summer Tour supported by the family run  firm of Dales Automotive, Kelbrook, Subaru and  SsangYong  main Dealers.  They can also provide you with van and motorhome hire as well as all the usual vehicle service items. Please see the regulations below and we look forward to seeing you all participating.
Seeded entry list link below.
https://www.rallies.info/webentry/2019/dalestour/entries.php?type=s
NEW RECORDS AT SCAMMONDEN
Select Scammonden Hillclimb on main page above  to                                                 view or  download