Lee Holland ND Civils stages 2022
ND Civils Lee Holland Stages Cancellation Statement
In light of the current climate regarding Welsh Government Covid restrictions, and uncertainty surrounding the easing of these regulations, both Pendle District Motor Club and Garstang & Preston Motor Club have made the very difficult decision to cancel the ND Civils Lee Holland Stages.
The event had been due to take place at Anglesey Trac Mon on the 29th and 30th January.
We are all understandably disappointed at having to make this decision with just over two weeks until the event, but given the uncertainty over the Welsh government's Covid rules and regulations, we are left with no other option.
We wish to thank everyone who committed to the event, especially the many replique montre people who have given up hundreds of hours already in organising.
As a result of this decision, competitors will receive refunds as per the Event Regulations.
We thank you for understanding.
The Organisers.
Regulations now available. See link below
2022 Lee Holland Regulations V3
All entries are online and available from 1900hrs 23/12/21.
Entry Form: https://www.rallies.info/webentry/2022/leeholland/webentry.php
(When available) Unseeded Entry List: https://www.rallies.info/webentry/2022/leeholland/entries.php?type=u
(When available) Seeded Entry List: https://www.rallies.info/webentry/2022/leeholland/entries.php?type=s
_________________________________________________________________________
2021 Lee Holland ND Civil stages thanks
"Hi all. (Event Officials, Marshals, control timekeepers, radio control and radio crews, recovery, rescue, setup crews and anyone else (sorry) I may not have mentioned individually.
I hope you all arrived home safely.
Can I thank you all for your support and excellent work throughout the running of the Lee Holland Stages 21.
After very fraught and tense build ups and let downs, mainly due to Covid restrictions, we finally got the event to run.
With a Trackday occuring on the Friday and not being able to start stage setups till after 1700hrs the setup crews worked exceptionally well on the Friday evening and then early Saturday to get everything ready for the event to start on time.
The actual event ran very smoothly, with no major incidents or holdups, thanks to all your efficient work.
I can only thank you all once again for you efficiency and hard work and hope we can count on your continued support on future events.
Alan Shaw on behalf of the organising clubs.
For your information I will provide a link below to the event results."
https://www.rallies.info/res.php?e=415
ND
Civils Lee Holland Stages 3rd July 2021
Final Instructions. Due to Server problems that the Secretary is experiencing please find below the Final Instructions. He will still carry on trying to send them individually as well but please check whether your team member has received them.
ND Civils Lee Holland Stages
Seeded Entry link
https://www.rallies.info/webentry/2021/leeholland/entries.php?type=s
SPECTATORS
AT ANGLESEY CIRCUIT 3rd and 4th July.
Unfortunately spectators are NOT allowed at Anglesey Circuit for either the Lee Holland or the SMC Stages. Both organising teams had a joint meeting, and this was the decision that was made.
Events run so far in England and Wales with large numbers are "pilot " events run under the "Govt returning to normal program". All those large events, such as football or concerts, have had strict entry conditions, two vaccines, negative lateral flow test etc..
Wales currently have different rules to England regarding spectators and under current COVID regulations, the competitor / marshal bubble needs to be kept separate from the spectator bubble.
Oulton Park and other larger venues have paddock areas fenced off so there is no mix with competitors and officials. That is not possible at the Anglesey Circuit as there is no separation fence and the catering and toilets are within the paddock boundary so that would mean there are no Spectator facilities.
These are the first such events being run in Wales since the restart and we don't want to jeopardise these or future events across the country.
We are very sorry for yourselves (Spectators) and Anglesey Circuit. We have all been trying our hardest to put these events on and hope you will bear with all organisers in the near future so as not to jeopardise other future events.
Lee Holland Memorial Rally
03rd July 2021
Anglesey Race Circuit.
Just to remind every body who has a "reserve or received " entry. The time has come to pay, as per the latest notification sent out to all who put an email address on the entry…both Driver and co- driver should have them. Some say they have not, due I guess to "spam" filters etc.
Payment details will be e mailed out 0800hrs Monday 14th June 21.
It is up to you to let me know, you will have until 23:59 Wednesday 16th June 21 to pay, after that you will have been deemed to pull your entry and a reserve will be slotted in.
Please please either put your name or the recieved number on your transaction, I can then easily identify you etc.
Any problems my details are in the regs.
Rod
ND Civils Lee Holland Stages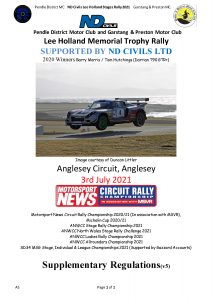 3rd July 2021
Lee Holland Regulations (Version 5)
Please note that these are the latest regulations as of 6/4/21. The only real changes are with regard to the dates and trackday. Please read/check dates carefully.
PLEASE READ CAREFULLY THE INSTRUCTIONS REGARDING ENTRY FEE PAYMENT.
__________________________________________________________________
2020
PLEASE BE AWARE Overall Final Results now available below.
Full results available at https://www.rallies.info/
.
PLEASE BE AWARE Final Instructions and Garage/Scrutineering Info now available below.
Regulations now available please click link below
PLEASE BE AWARE UPDATED REGS AS OF 2/1/20.
Minor alterations to a couple of dates, refuelling (use of pumps), Michelin ad and inclusion of GT class.
Entries will go live on 3rd January 2020 @ 2100hrs
Entry form link.
Unseeded and Seeded replica watches entry links when available.
Marshals of all disciplines also required. Please contact Mr Andrew Benson @
(07702188003) with your details. Name, email address, age, MSA marshal number. Preferred discipline.
Full entry list and results here
Tilemaster Adhesives Lee Holland Stages 2019
Regulations available Click on link below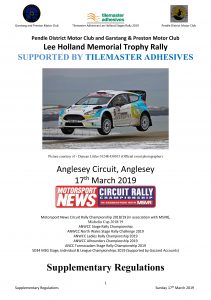 Marshals of all disciplines also required. Please contact Mr Andrew Benson (07702188003) or e-mail by clicking on link below
with your details. Name, email address, age, MSA marshal number. Preferred discipline.
————————————————————————————-
Lee Holland Results 2018
ENTRIES
Seeded Entry List when available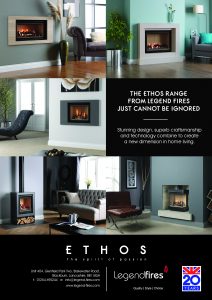 We are very glad to welcome Legend Fires as our sponsor for the 2018 Lee Holland Stages. Posted 2/1/18
Marshals required. All disciplines welcome. On course, timing, radio. Chief Marshal Andy Jones E mail
Please contact with your details. Name, email address, age, MSA registered marshal number. Preferred discipline.