2022 Hillclimb
Regs now available see hillclimb link above.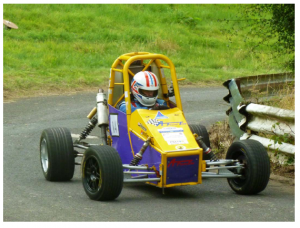 Round of the following Championships:
The 2022 Liverpool Motor club Championship
The 2022 Longton Motor Club Northern Speed Championship
The 2022 ANWCC Speed/Hillclimb/Sprint Championship.
The 2022 SD34 MSG Sprint & Hillclimb Championship.
The 2022 Cross Border Speed Championship
Triple M /Pirelli Tyres Nottinghamshire Sports Car 2022 Speed Championship
2022 Dales Automotive Summer Tour
Photographs available on the Pendle District MC Facebook Page
Regulations available.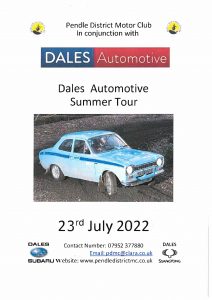 Click Summer Tour Link at top of Page
——————————————————-
PENDLE and District Motor Club have raised £4,000 for two local charities after their hugely-successful motorsport evening held at the Old Stone Trough Inn, Kelbrookin February.
Club chairman Rod Brereton was delighted to present £2,000 each to representatives of the North West Air Ambulance and the East Lancashire Downs Syndrome Support Group.
NWAA volunteer Annette Coates and ELDSSG manager Phil Shatliff were on hand to receive the money at the club's meeting, also held at the Stone Trough.
"Our aim was to raise £4,000 from the night and to achieve that was just brilliant," said Rod.
"There are so many people to thank, the forum guests, the generosity of the raffle and auction donors and bidders,  and everyone who turned up on the night. I'd also like to thank Thomas Preston of the Hippo Motor Group, who helped us reach our target with a donation of £250.
"After listening to the work that is undertaken by these two charities, the club feel very honoured to be have been able to help them through our chosen sport."
The money presented to the ELDSSG will go towards funding their Early Years Education Support Scheme, which gives specialist teaching for children entering mainstream schools for the first time.
"We'd like to thank Pendle DMC for their wonderful gesture, which will support 10 children in the scheme," said Mr Shatliff, who was joined on the night by his son Lucas,12, and other members of the Group.
The £2,000 presented to the NWAA will go towards supporting the three air ambulances and four rapid response vehicles based at Blackpool Airport and Barton Aerodrome, and requires an annual budget of £9.5 million to keep airborne.
Thanks to Neil Johnson for the pictures and text.
_______________________________________
Heroes Stages 2022
In Memory of Les Fragle
The regs are now available to download. See Heroes Stages link above.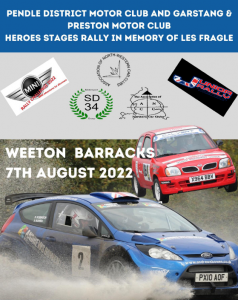 The entries will go live at 2000hrs Friday 6th May 22
______________________________________________________________________________
Lee Holland ND Civils stages 2022
ND Civils Lee Holland Stages Cancellation Statement
In light of the current climate regarding Welsh Government Covid restrictions, and uncertainty surrounding the easing of these regulations, both Pendle District Motor Club and Garstang & Preston Motor Club have made the very difficult decision to cancel the ND Civils Lee Holland Stages.
The event had been due to take place at Anglesey Trac Mon on the 29th and 30th January. 
We are all understandably disappointed at having to make this decision with just over two weeks until the event, but given the uncertainty over the Welsh government's Covid rules and regulations, we are left with no other option.
We wish to thank everyone who committed to the event, especially the many people who have given up hundreds of hours already in organising.
As a result of this decision, competitors will receive refunds as per the Event Regulations. 
We thank you for understanding.
The Organisers. 
Regulations now available. See Lee Holland Page
———————————————————-
Pendle District Motor Club
CHARITY MOTORSPORT EVENING 4th February 2022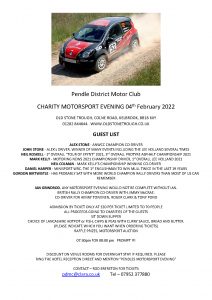 CHARITY MOTORSPORT EVENING 04th February 2022 POSTER
———————————————————-
21st July 21
Scammonden Hillclimb 14th August 21
After due consideration of comments by last weeks competitors, and having previously spent time trying to repair the road surface at Scammonden, we have had to take the decision to cancel the August Hillclimb.
The clubs that normally run at Scammonden will be looking at the possibility of resurfacing areas of the track for future use, but as you all probably realise that would be an very expensive  commitment.
We are very sorry for the late decision on this but the last event only took place last weekend and further problems were noted.
The Organisers
7/7/21
Once again, unfortunately due to not having permission from the MOD to use Weeton Barracks, we have had to cancel the Heroes Stages which was due to run on the 8th August 21.
We are looking for a possible future date nearer the end of the year otherwise it will be next year.
Sorry for this.
The organisers
"Hi all. (Event Officials, Marshals, control timekeepers, radio control and radio crews, recovery, rescue, setup crews and anyone else (sorry) I may not have mentioned individually.
I hope you all arrived home safely.
Can I thank you all for your support and excellent work throughout the running of the Lee Holland Stages 21.
After very fraught and tense build ups and let downs, mainly due to Covid restrictions, we finally got the event to run.
With a Trackday occuring on the Friday and not being able to start stage setups till after 1700hrs the setup crews worked exceptionally well on the Friday evening and then early Saturday to get everything ready for the event to start on time.
The actual event ran very smoothly, with no major incidents or holdups, thanks to all your efficient work.
I can only thank you all once again for you efficiency and hard work and hope we can count on your continued support on future events.
Alan Shaw on behalf of the organising clubs.
For your information I will provide a link below to the event results."
https://www.rallies.info/res.php?e=415
ND Civils Lee Holland Stages 3rd July 2021
Final Instructions. Due to Server problems that the Secretary is experiencing please find below the Final Instructions. He will still carry on trying to send them individually as well but please check whether your team member has received them.
SPECTATORS
AT ANGLESEY CIRCUIT 3rd and 4th July.
Unfortunately spectators are NOT allowed at Anglesey Circuit for either the Lee Holland or the SMC Stages. Both organising teams had a joint meeting, and this was the decision that was made.
Events run so far in England and Wales with large numbers are "pilot " events run under the "Govt returning to normal program". All those large events, such as football or concerts, have had strict entry conditions, two vaccines, negative lateral flow test etc..
Wales currently have different rules to England regarding spectators and under current COVID regulations, the competitor / marshal bubble needs to be kept separate from the spectator bubble.
Oulton Park and other larger venues have paddock areas fenced off so there is no mix with competitors and officials. That is not possible at the Anglesey Circuit as there is no separation fence and the catering and toilets are within the paddock boundary so that would mean there are no Spectator facilities.
These are the first such events being run in Wales since the restart and we don't want to jeopardise these or future events across the country.
We are very sorry for yourselves (Spectators) and Anglesey Circuit. We have all been trying our hardest to put these events on and hope you will bear with all organisers in the near future so as not to jeopardise other future events.
Lee Holland Memorial Rally
03rd July 2021
Anglesey Race Circuit.
Just to remind every body who has a "reserve or received " entry. The time has come to pay, as per the latest notification sent out to all who put an email address on the entry…both Driver and co- driver should have them. Some say they have not, due I guess to "spam" filters etc.
Payment details will be e mailed out 0800hrs Monday 14th June 21.
It is up to you to let me know, you will have until 23:59 Wednesday  16th June 21 to pay, after that you will have been deemed to pull your entry and a reserve will be slotted in.
Please please either put your name or the recieved number on your transaction, I can then easily identify you etc.
Any problems my details are in the regs.
Rod
ND Civils Lee Holland Stages
 3rd July 2021
Please note, latest Lee Holland Regulations, Version 5, now available.
Please click Lee Holland link above
All people on the official accepted entry list will be notifed, on the same date, when to pay and given Bank payment details. You will then be given approx 3 days to pay by bank transfer. If you do not pay within that time you will forfeit your entry and it will be offered to a reserve entry.
__________________________________________________________________
__________________________________________________________________
These videos may be of interest to anyone who is planning to help out on timing. Click on the picture below.
Thanks to RAB Timing.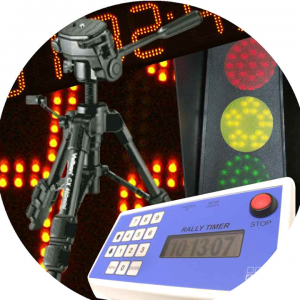 Please contact the Chief Marshal Ian Swallow if you are available to assist with this event.
Something to read
A small article that may be of interest.
LAC St Georges Day Run
Lee Holland Stages 2020 Award.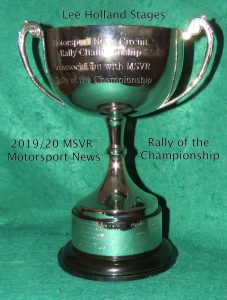 Motorsport News Circuit Rally Championship in Association with MSVR 'We are pleased to announce that the Lee Holland Stages Rally was voted by the competitors "The Rally of the Championship 2019/20" '.
Quote.
"On behalf of Pendle District MC and Garstang and Preston Motor Club, joint organisers of the Lee Holland Stages, we would like to thank all the members from both clubs who helped organise and run the event and especially those that worked during the setting up on the Saturday in the freezing conditions and winds gusting at 80mph.
Thanks also to Annette & Richard from THE ANGLESEY CIRCUIT. The rescue and recovery crews, medics and radio crews and MSUK officials who assisted running the actual event on the Sunday.
You all played your parts to achieve the running of the event and making such an impression on the competitors who are the people that emailed their votes in to make us 'Rally of the Championship 2019/20'.
Thanks to all the competitors who have supported us and the Championship over the years. We would also like to thank the Championship Organisers for their assistance and continued running of the Championship in these very strange times of Covid-19.
We think you should all take a pat on the back and lets hope the 2021 event, to run on Sunday the 07th March 2021, gets as good a reception and a repeat of this accolade.
Stay safe and healthy.
The Organisers
___________________________________________________________________________
24/9/20 1920 hrs.
Event Cancellation.
It is with sadness that the Heroes Stages Rally run by Pendle District MC, along with Garstang and Preston MC, have had to announce that the Heroes Stages Rally, which was due to take place on the 1st November has had to be cancelled for this year.
The MOD, due to Covid problems within the Preston area, have with regret withdrawn permission to use the camp. We have also been pondering of late whether it would be unwise, even though all the latest Covid 19 regulations have been put in place, to put on this event when local families are being restricted in their ability to see family and friends.
To our competitors, thank you for your forbearance and continued support. We hope we will see you in the near future and assure you we tried our best to get this event on.
To our sponsors Neil & Dawn Roskell from ND Civils, thank you for your support.
To all our marshals, radio, timing, results and safety personnel – we again thank you for your continued support. Also to MSUK for their efforts and support of this event.
We know how many of you were willing to give up your time to support us and be available and prepared to stand out in whatever conditions the November date threw at us.
Unfortunately despite all our efforts it was not to be. We are sorry to disappoint everyone and we hope to see you all again next year at the Lee Holland Stages Anglesey in March and the Heroes stages in August.
Entries will be refunded as soon as possible.
Look after yourselves and more importantly stay safe in these turbulent times.
AS

Heroes Stages Rally

2020
PLEASE NOTE. (Updated entry opening time below)
Regulations now available on the Heroes Page using the link at the top of this page.
Entries become live on Monday 21st Sep 20 at 2000hrs
We are now able to confirm that we have secured a new date of 1st November 2020 for the running of the Heroes Stage Rally. Note this is now being planned to be a f

ull stage Rally.
(This of course is subject to any Covid 19 and  Ministry of Defence changes of condition.)
See link above to take you to the Heroes Stages Page. 
____________________________________
Please click on the links below re cancellation of 2020 Hillclimb.
The Dales Automotive, Summer Tour is on hold at this moment. If we get chance to run it we will do so. Obviously subject to the below comments/restrictions.
Heroes Stages 9th Aug and Hillclimb 15th August.
Sorry now both cancelled.
Regs now available.
PLEASE BE AWARE Final Results available above on Lee Holland Page.
PLEASE BE AWARE UPDATED REGS AS OF 2/1/20.
Minor alterations to a couple of dates, refuelling (use of pumps), Michelin ad and inclusion of GT class.
Click on Lee Holland tab above

Tilemaster Adhesives
Lee Holland Stages 2020
Entries will go live on 3rd January 2020 @ 2100hrs See main page Lee Holland tab above
Marshals of all disciplines also required. Please contact Mr Andrew Benson @
 (07702188003) with your details. Name, email address, age, MSA marshal number. Preferred discipline.
Heroes Stages and Weeton Junior Stages
Regs available on main page Heroes tag above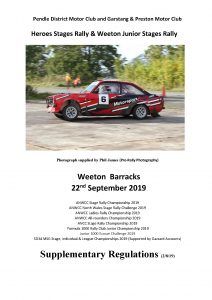 2019 August Hillclimb Regulations available now

.
Select Scammonden Hillclimb on main page above  to  access regulations
Marshals. If anyone would like to help out. Please contact Barry Wilkinson on blu161@gmail.com or message on his Facebook page
A new event to Pendle District MC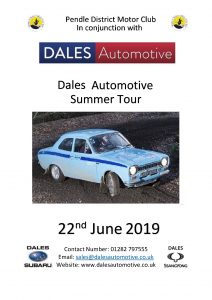 Welcome to the Summer Tour supported by the family run  firm of Dales Automotive, Kelbrook, Subaru and  SsangYong  main Dealers.  They can also provide you with van and motorhome hire as well as all the usual vehicle service items. Please see the regulations below and we look forward to seeing you all participating.
Seeded entry list link below.
https://www.rallies.info/webentry/2019/dalestour/entries.php?type=s
NEW RECORDS AT SCAMMONDEN
Select Scammonden Hillclimb on main page above  to                                                 view or  download